Proud member of

What does it mean for us being a CompTIA member and how does it help you?
Being a member is more than just being able to display the logo! It means we have demonstrated our ability to plan projects and take into account what matters to businesses. Our clients benefit from our meticulous and structured approach, affording them a greater level of support.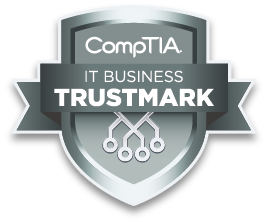 We are currently, one of only seven IT Service providers in the East Midlands who have achieved the CompTIA IT Business Trustmark. The CompTIA IT Business Trustmark is designed to validate an IT company's ability to demonstrate sound business practices and provide quality service.
CASE STUDY
New systems and software... it all adds up
A firm of chartered accountants which has been operating for more than 30 years knows it's numbers inside out. So when they need support and advice on their IT Infrastructure, relying on Basic is easy maths.
"Everything is now done for me. I don't have to worry about backing up, software or servers. Basic manages it all, so I can concentrate on my clients."
Lewis Sutton, Principal, Dawes & Sutton