Basic Business Systems Ltd Earns Respected Technology Industry Business Credential CompTIA IT Business Trustmark™ signifies commitment to sound business practices, quality service.
Basic Business Systems Ltd announced today it has received the CompTIA IT Business Trustmark™, a respected industry credential that signifies its commitment to sound business practices and quality service.
"Earning this credential identifies Basic Business Systems Ltd as a business that meets or exceeds the best business practices the IT industry has to offer," said John McGlinchey, vice president, Europe and Middle East, CompTIA.
The CompTIA IT Business Trustmark was developed by CompTIA, the non-profit association for the information technology industry, in collaboration with industry experts and leaders, to identify ICT companies that follow industry best practices related to service agreements, standard operating procedures and systems and tools for delivering services.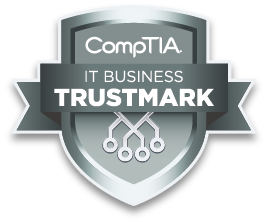 Basic have always been about Quality. We've always been about providing great service, ethically and doing the best we can for our customers too. As Comptia Premier members, we've been involved in and take an active part in leading our industry.

Basic have been involved in how we can best use technology to the benefit of our customers for 35 years, so gaining this Trust Mark standard is simply confirmation of this.

We're absolutely delighted to keep working hard towards delivering the best price / value point in the industry.
Richard Smith, Managing Director
Companies that earn the CompTIA IT Business Trustmark have pledged to follow a robust code of practices that meet or exceed industry standard levels of customer service. They've also met industry-agreed standards in areas such as data security practices, staff competencies and holding of adequate insurance.
The Trustmark was developed through the CompTIA UK Channel Community, which consists of many of the UK's leading channel businesses. It was a member-led initiative and its criteria was constructed and validated by members of this collaborative peer group of experienced industry professionals, working alongside CompTIA.
About Basic Business Systems Ltd
Basic is one of the leading IT solutions providers in the Midlands. Operating for over 35 years, we support, implement and manage IT systems and software, as well as providing IT support.
Our clients are from right across the UK, as well as Europe, the US and Australia.
During this time, we've helped many customers improve their business systems. Using our expertise and experience, we can advise you of the most up-to-date, efficient and cost-effective solutions.
About CompTIA
CompTIA is the voice of the world's information technology (IT) industry. Its members are the companies at the forefront of innovation; and the professionals responsible for maximizing the benefits organizations receive from their investments in technology. CompTIA is dedicated to advancing industry growth through its educational programs, market research, networking events, professional certifications, and public policy advocacy. Visit http://www.comptia.org/